About Professional Skills Institute
Clicking the "Get Info Now" button constitutes your express written consent to be called, emailed, and/or texted by Professional Skills Institute at the number(s) you provided, regarding furthering your education. You understand that these calls and texts may be generated using an automated technology. To stop texting, reply STOP to unsubscribe. Reply START to resubscribe.
We Help You Acheive Your Goals
Professional Skills Institute is a private post-secondary institution of higher education serving Northwestern Ohio and Southeastern Michigan. The institute offers campus-based, career-focused diploma and degree programs, leading to professional certifications and licenses in a variety of healthcare and trades fields. PSI was established in 1984 by Patricia Finch, an Ohio born registered nurse from the south end of Toledo, who had a vision of creating a school unique from the sprawling institutions in the region. This was to be a college for everyone; as rich in diversity as opportunity for success.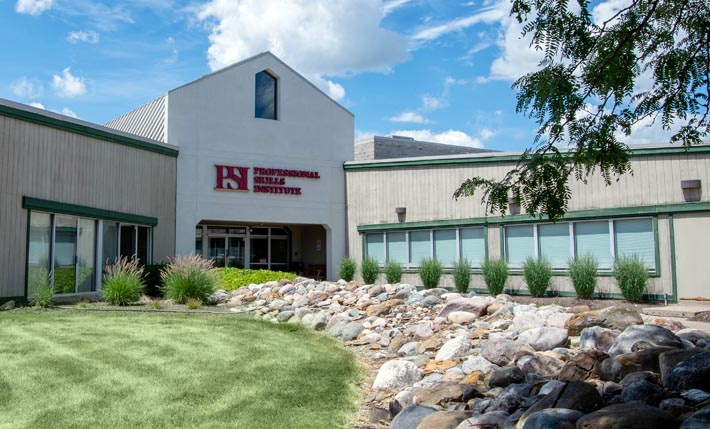 At the inception of the school, there were only two students, and the classes were held in a small office space on Airport Highway. The first programs offered were Medical Assistant (MA) and Medical Secretary (MS). As the demand for qualified healthcare training grew, the school moved in June 2012 to its current location, a 60,000 square foot campus located at 1505 Holland Road in Maumee, OH. The facility was originally the headquarters for Hickory Farms and retains the beautiful original wood beam architecture and loft in the lobby area.
In 1986, PSI was granted accreditation from the Accrediting Bureau of Health Education Schools (ABHES).
PSI added its first Associate of Applied Science Degree program in 1989, when it received approval for the Physical Therapist Assisting (PTA) program from ABHES and the State of Ohio Board of Proprietary School Registration (now named State of Ohio Board of Career Colleges and Schools).
In 1992, the PTA program was granted programmatic accreditation by the Commission on Accreditation in Physical Therapy Education (CAPTE). This accreditation grants eligibility to the graduates to sit for the National Physical Therapy Examination (NPTE) PTA.
Diploma programs in Medical Billing and Coding Specialist (MBCS) and Medical Office Assistant (MOA) were approved in 1995. The Medical Office Assistant program was renamed Medical Assisting in late 2018.
In the beginning of 2002, recognizing there was a shortage of Licensed Practical Nurses (LPN) not only in the Toledo area, but also nationwide, PSI began working with the Nursing Board of the State of Ohio and developed a Practical Nurse Program. The first class started in August of 2002. The Professional Skills Institute School of Practical Nursing Program (PN) was granted approval by the Ohio Board of Nursing in the Fall of 2003.
On May 2, 2016, Professional Skills, LLC (d/b/a Professional Skills Institute) purchased the assets of Professional Skills Inc. Professional Skills, LLC is owned by Education Evolve, LLC.In June 2019, two new commercial driving programs were approved: an 18-week Advanced Class A CDL Driving program offering training in both commercial driving and supply chain logistics, and a 4-week Class A CDL Driving program offering CDL certification.
PSI is institutionally accredited by the Accrediting Bureau of Health Education Schools (ABHES) as an allied health educational institution and approved by ABHES to confer Diplomas and Associate of Applied Science Degrees. It is approved by the State of Ohio Board of Career Colleges and Schools to confer diplomas and Associate of Applied Science Degrees. The Institution is also approved by the U.S. Department of Education to administer Title IV Pell Grants, Direct Student Loans (DSL), and Parent Loans for Undergraduate Students (PLUS).
Over 35 years have passed, but Patricia Finch's philosophy still remains. PSI has grown significantly from its small beginnings and now serves a growing population of students across 2 degree programs and 2 diploma programs at its location in Maumee, OH. The school remains committed to its mission of serving the career and personal goals of students and meeting the employment needs of business in the local region.