Get Practical Nursing Jobs with Training from Professional Skills Institute!
Clicking the "Get Info Now" button constitutes your express written consent to be called, emailed, and/or texted by Professional Skills Institute at the number(s) you provided, regarding furthering your education. You understand that these calls and texts may be generated using an automated technology. To stop texting, reply STOP to unsubscribe. Reply START to resubscribe.
Licensed Practical Nursing careers across the country continue to grow. The variety of employment opportunities, the demand for qualified nurses, and personal career satisfaction are a few obvious reasons. If you enjoy helping people, are interested in working directly with patients, and have good communication skills, then getting your practical nurse training from Professional Skills Institute may be a good option for you. PSI's Practical Nurse program offers both DAY and EVENING CLASSES!
The Practical Nurse program has approval by the Ohio Board of Nursing (OBN) through November 2025, 17 South High Street, Suite 660, Columbus, Ohio, 43215-3413; telephone: (614) 466-3947; website: http://www.nursing.ohio.gov
Your Role as a Practical Nurse
Licensed Practical Nurses (LPNs) perform a multitude of essential duties under the direction of a physician. LPNs provide basic bedside care, take vital signs such as temperature, blood pressure, pulse, and respirations, and document patient care in electronic health record systems. They provide direct patient care such as wound care, inserting, monitoring and removing urinary catheters, starting IVs for adult patients, and administering select medications. LPNs closely monitor patients and report adverse reactions to medications and treatments. In addition, LPNs collect samples for testing, perform blood draws and routine laboratory tests, and provide a comfortable environment for patients – listening to their concerns and discussing their medical care.
LPNs can also supervise nursing assistants and aides under the direction of a registered nurse or any of the following who is authorized to practice in this state (Ohio) or surrounding states where licensed: a physician, physician assistant, dentist, podiatrist, optometrist, or chiropractor.
*Hybrid programs combine a supportive, hands-on, campus-based education environment with the independence and flexibility of online learning.
The Professional Skills Institute Advantage
Careers in Focus: Practical Nurse
Swipe through our infographic to find out what you'll do, where you'll work and the career opportunity for an LPN!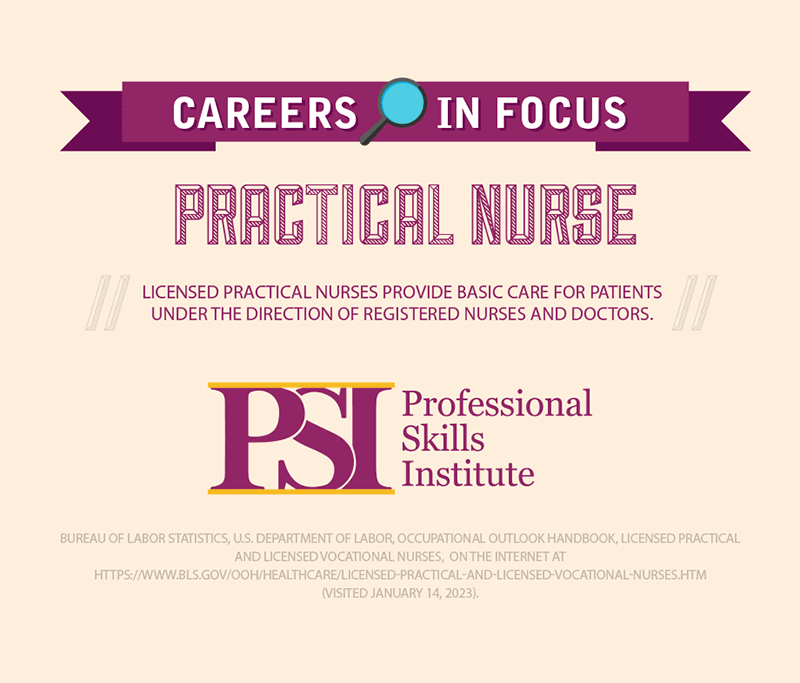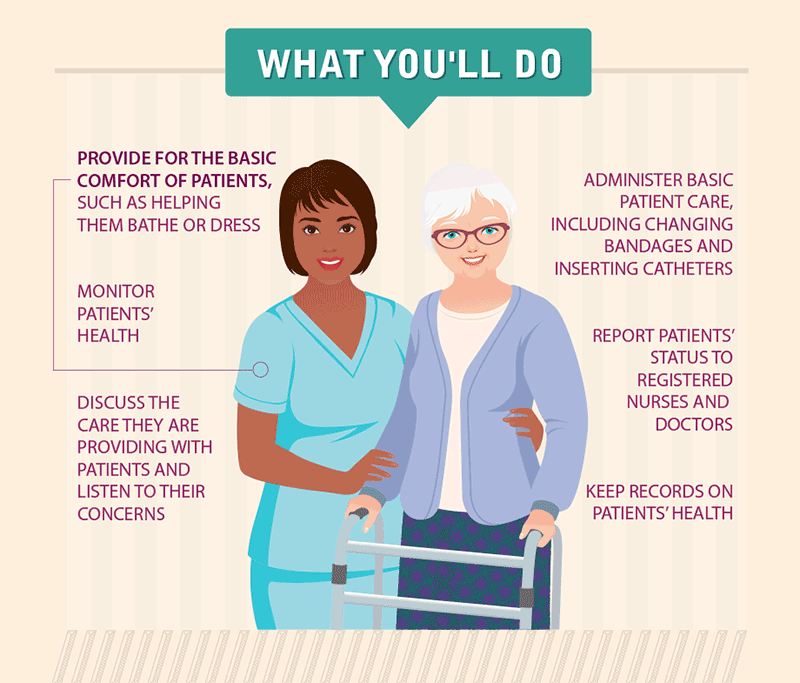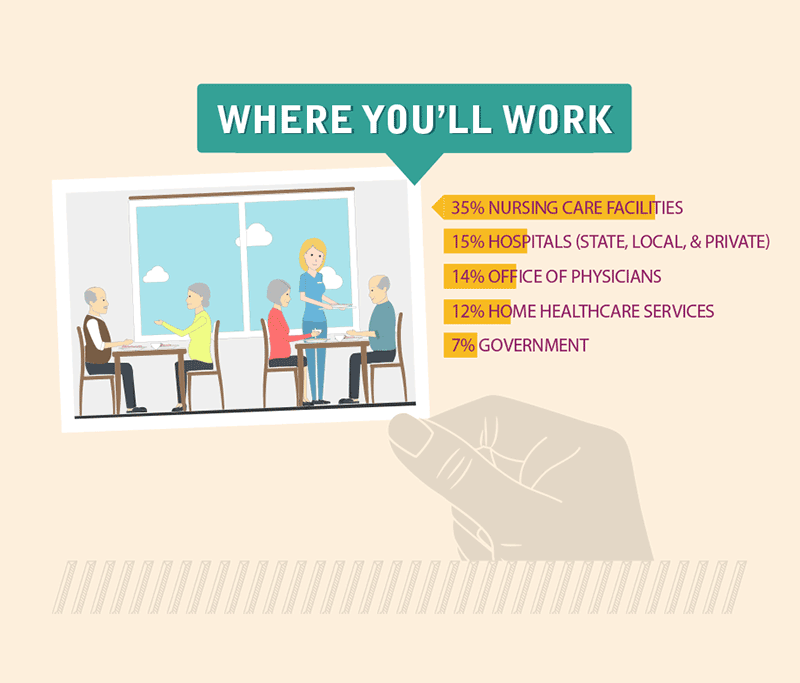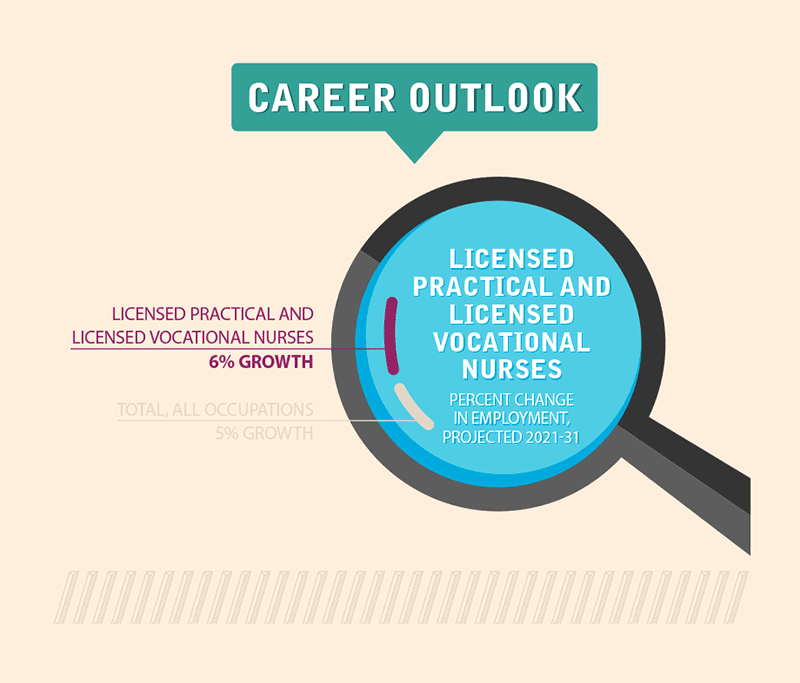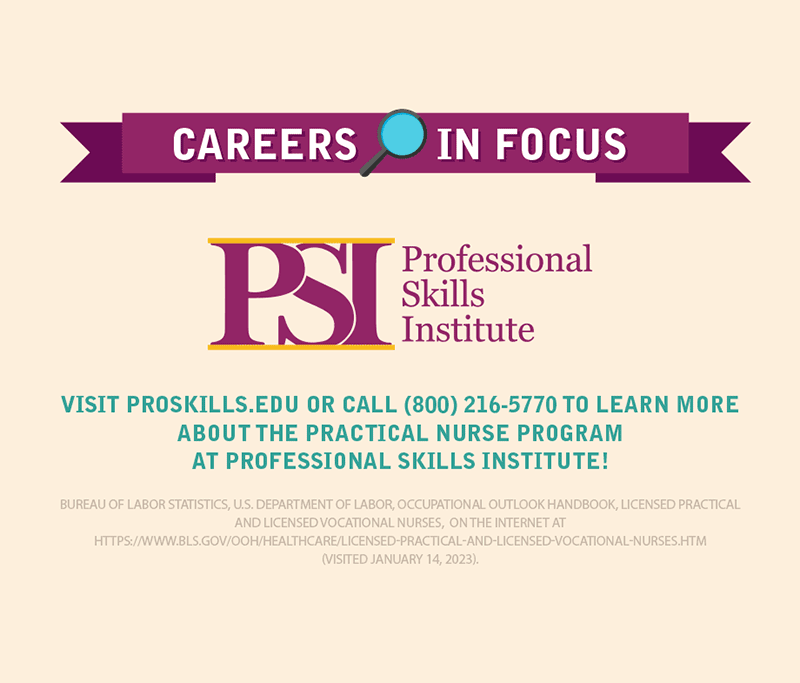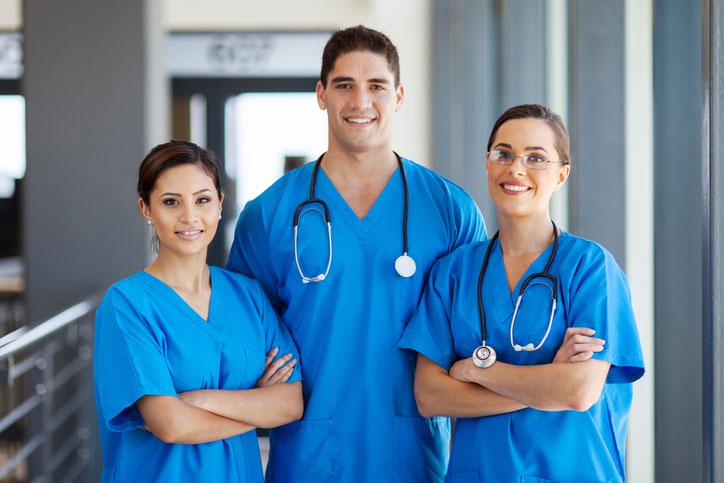 Get Practical Nursing Jobs with Your PSI Education
With a Professional Skills Institute education, you'll have opportunities to apply for licensed practical nursing jobs to some of the most highly sought-after medical employers in the state. Here are just a few of the companies who have hired our graduates:
Heartland at Promedica
Beaumont Hospital-Dearborn
Sunset Retirement Communities
PSI's Practical Nursing program meets the educational requirements for licensure as a Licensed Practical Nurse (LPN) in the state of Ohio and in the state of Michigan.
We have not made a determination for the following states*: AL, AK, American Samoa, AZ, AR, CA, CO, CT, DE, DC, FL, GA, Guam, HI, ID, IL, IA, KS, KY, LA, ME, MA, MD, MN, MS, MO, MT, NE, NV, NH, NJ, NM, NY, NC, ND, N. Marianas Island, OK, OR, PA, PR, RI, SC, SD, TN, TX, UT, VA, VT, Virgin Islands, WA, WV, WI, WY
Those who successfully graduate from the Practical Nursing program may be eligible to take the NLCLEX-PN®. Approval to take the examination is not automatic. Successfully passing the NCLEX is one of several requirements for licensure.
Requirements for licensure vary among states. In order to locate the licensure eligibility requirements of another state, please contact the Board of Nursing of that state.
*If you need additional information on state eligibility or transferability requirements for these states, please contact your Program Director or the Campus Director.
National Level
Professional Skills Institute is institutionally accredited by the Accrediting Bureau of Health Education Schools (ABHES).
ABHES is recognized by the Secretary of Education as a national accrediting body determined to be a reliable authority as to the quality of training offered by the educational institutions and programs it accredits. Its approved and recognized scope includes degree and non-degree granting private, postsecondary institutions offering educational programs predominantly in allied health; and the programmatic accreditation of medical assistant, medical laboratory technician, and surgical technology programs. When you attend an ABHES-accredited institution, you are attending a school that has undergone a rigorous process that evaluates educational quality.
ABHES Accredited, 6116 Executive Boulevard, Suite 730, North Bethesda, Maryland 20852; telephone: 301-291-7550; email: info@abhes.org
State Level
Ohio State Board of Career Colleges and Schools
PSI has been granted state approval to confer the Associate of Applied Science Degrees and program Diplomas. http://scr.ohio.gov/
Programmatic Approval
The Practical Nurse program has approval by the Ohio Board of Nursing (OBN) through November 2025, 17 South High Street, Suite 660, Columbus, Ohio, 43215-3413; telephone: (614) 466-3947; website: http://www.nursing.ohio.gov
Effective August 29, 2023, this nursing program is a candidate for initial accreditation by the Accreditation Commission for Education in Nursing. This candidacy status expires on August 29, 2025.
Accreditation Commission for Education in Nursing (ACEN)
3390 Peachtree Road NE, Suite 1400
Atlanta, GA 30326
(404) 975-5000
http://www.acenursing.com/candidates/candidacy.asp
The following are a few of the courses that you'll take as part of the Practical Nurse program:
Anatomy and Physiology Foundations
Anatomy, Physiology, and Pharmacology
Basic Math and Dosage Calculations
Introduction to Psychology
Introduction to Nursing Principles
Fundamentals of Nursing
Mental Health Nursing
Medical-Surgical Nursing
Maternal and Pediatric Nursing
Advanced Medical-Surgical Nursing
PN Transitions to Practice
PN Capstone
Financial Aid is available for those who qualify. Click here for Financial Aid information.